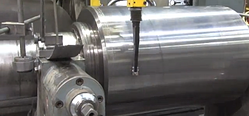 Manufacturing efficiency and quality are tied directly to the roundness, concentricity and smoothness of your rolls. From consistent caliper to the overall quality of your product, precision roll grinding is necessary to eliminate major quality deterioration.
When it comes to your rolls, quality deterioration most frequently refers to barring, feedlines and chatter.
A roll maintained to OEM specifications (or better) increases your profitability, revenue and productivity. A roll that contains barring, feedlines or chatter, however, cuts sharply into your efficiency and profitability. At the end of the day, using expert roll grinding services to win the battle against these issues is the smart option.
Many manufacturers opt to use a general grinding service or their in-house grinding equipment. Due to factors such as age, wear and tear and an inability to grind off of with the roll's bearings and housings removed, however, these services and equipment are unable to grind to the precise specifications necessary to increase the quality of your product. For some, the perception is that it's a more cost-effective way to grind and maintain roll specs. But the truth is that grinding rolls to specification is mechanically impossible this way.
On the other hand, expert precision grinding companies maintain rolls to exact specifications – even, in many cases, far better than the OEM recommends. Such professional roll grinding has a substantial impact on the efficiency and quality of your production.
Why In-House Or Low-Budget Grinding Doesn't Cut It
Most in-house grinding occurs with the roll on its bearings and housings. This does not create an optimal environment for the elimination of barring and chatter and may produce feedlines. These issues are especially problematic in the papermaking industry. In addition, this method creates significant downtime due to preventive "maintenance," which may actually be premature, versus a precision-ground roll.
Also, today's machines are often running faster than intended – and with looser tolerance specifications than the original designer intended. Grinding on bearings and housings makes it extremely difficult to meet specifications that will yield a higher-quality product at a faster rate of production for an extended period of time.
As for working rolls, the dimensions of their positions are most important to your products' uniformity of profile. Again, preventing barring, feedlines and chatter, as well as meeting the desired OEM specifications (or better), is unfeasible when a roll is ground on its housings and bearings. In fact, grinding on a roll's bearings will not eliminate chatter or barring.
Why Precision Grinding Services Get The Job Done
From an operational perspective, expert roll grinding yields maximum productivity results. A precision roll grinding company has the ability to craft rolls with perfect roundness, shape, profile, TIR and concentricity. This task goes well beyond the surface.
If perfectly maintained, your rolls require less grinding and provide a better sheet in machine direction and cross direction. Additionally, rubber, composite and poly covers last longer because, with such exact grinds, your rolls have a uniform surface profile, finish, and thus, wear more consistently over time.
With precision grinding services, the risk of future manufacturing downtime is significantly reduced. And with greater uniformity in your products, your customers are able to run their converting equipment faster, ultimately allowing them to be more profitable.
There's a misguided assumption that outsourcing is an expensive option when it comes to roll grinding. The reality is that outsourcing your precision grinding and roll services is often much more cost efficient than using an in-house roll grinder (freight costs included).
To battle barring, feedlines and chatter, put your rolls in the experts' hands. After all, they have the tools and infrastructure to get it done properly. Think long term, and understand the consequences of imperfect roll grinding. Your productivity and manufacturing quality are always on the line.