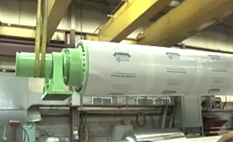 When you run your production machines each day, you rely on them to operate smoothly and generate products that meet your specifications. But, what happens when this equipment fails?
Manufacturing downtime is one of the greatest problems faced by production companies. It cuts into your production rate, yield, uptime, energy efficiency and, ultimately, profits. The costs of manufacturing downtime really add up.
That said, there are few issues that slow manufacturing down more than roll failure. It's simple, really: Defective or worn rolls equate to increased downtime. If they're out of commission for maintenance or replacement, your production efficiency suffers.
You want to get the most out of your rolls' lifespans. So, here are four steps you should take to ensure that your rolls run efficiently for as long as possible.
Conduct Regular Inspection
To detect a problem with your rolls before they completely break down and cause major manufacturing downtime, you need to inspect them on a regular basis. This is a fundamental aspect of ensuring production efficiency.
Look for visual inconsistencies in both the rolls and the products they help to generate. If, for example, you're a food manufacturer and you count on rolls to grind ingredients to a fine powder, an inability to achieve the proper level of fineness would be a red flag to roll inconsistencies.
Be sure to create a regular inspection schedule that enables you to keep an eye on your rolls and their output.
Monitor Concentricity
It's impossible to manufacture perfect products 100 percent of the time. But, if your rolls are round and within specification, you maximize the quality of your end product for a much longer period of time.
It is imperative to make sure that your rolls are round and concentric to the bearing seat, both prior to installation and during regular use. Use your product inspection schedule to monitor this consistently, as eccentricity will lead to a lower-quality product and wasted yield.
Perform Systematic Coating
If you're working with rolls that require coating, don't ignore this step. Systematically coating your rolls Carbide or ceramic coatings will increase their resistance to wear, abrasion and barring. It also improves the life of your finish and output, as uniform rolls ensure greater product consistency.
With proper coating, you could will prolong the need for roll grinding, thereby boosting your uptime. Select a proven coating option for your rolls and consult a precision grinding provider for guidance.
Ensure Precision Grinding
If your rolls are worn or uneven, your best option is to have them serviced by a precision roll grinding expert as soon as possible. This is the only way to guarantee the tightest tolerances and your exact specifications.
If your equipment is running at a faster speed than it was originally designed for, you must tighten your specifications to maximize your roll life. It is hard to believe the number of producers whom loosened their tolerances over time to get a lower cost grind and now fight issues that have become the norm based on decisions made 20 years ago.
The bottom line:
You must pay attention to your rolls. In doing so, you're better equipped to anticipate maintenance or replacement needs, thereby minimizing the impact of downtime on your profits.