Recognizes the financial reward in investing in world-class grinding
Rolls ground to world-class roundness, shape and concentricity make all the difference in the paper-making process. They let paper producers create more usable product and to run their production lines for longer periods of time between regrinds. We see it firsthand all the time.
When a manufacturer asked us to take a look at its paper machine, we knew immediately the inadequately serviced rolls were the culprit for the production line's misfortunes. The machine's two-roll calender stack was only lasting a maximum of six months before the rolls needed grinding. Around the six-month mark, the quality of paper would sharply decline to the point of being unsellable.
Management had grown to accept the cost of roll grinding as an unavoidable expense. An accepted minus in the budget ledger marked twice a year. A decision based on the lowest price. We were going to show them that shouldn't be the case.
Brought in as an advisor, we explained how roll grinding — when done properly —is actually an investment.
Which will pay returns
. We shared the validated findings we've compiled over the decades and proved the correlation between quality rolls, improved product variation and longer roll life. Our proof convinced the mill that the potential economic return for increasing roll life and improving quality far outweighed any additional cost of grinding to precision tolerances.
With PRG-ground rolls in the stack, there was immediate improvement seen in the quality of the paper. Additionally,
roll stack life increased by 50%, extending from six months to nine months, all while maintaining excellent paper quality
. Further post-installation data analysis showed that the rolls have the potential to last as long as one year. The results more than justified the mill's decision to pay more for quality roll grinding.
In the end, we provided an ROI that any manufacturer would be very happy with
.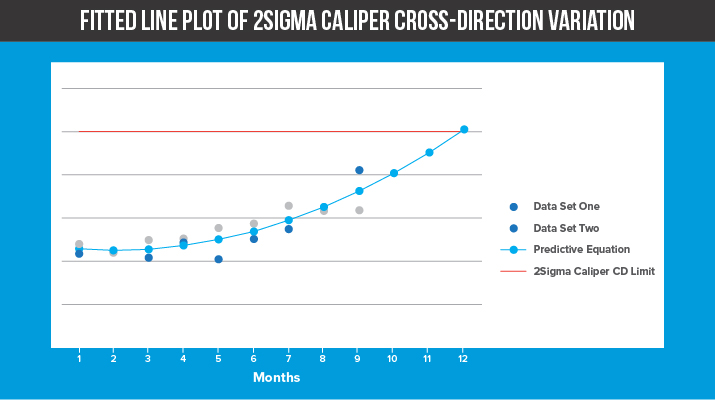 2-Sigma caliper cross-direction variation is the primary quality indicator used by the paper mill. Guided by this, and utilizing the data shared by the mill, we were able to determine the paper machine has the ability to run PRG rolls an additional three months, possibly longer (As a roll set gets closer to the end of its life cycle it can become difficult to assess how much longer it can run).