Nothing to sneeze at
The savings can be huge for tissue and towel producers using
PRG's roll coating technology
Tissue and towel producers are no different than other paper producers when it comes to what they want — high quality, no rejects and material uniformity. Standing in their way to this efficiency and profitability, however, is an issue unique to this industry: roll contamination.
Unfortunately for tissue and towel mills, the bone hard rubber and even chrome rolls used in the production lines have very few release characteristics. Their surfaces allow contaminants to build up on them which eventually leads to holes and/or picking on the sheet and then upstream problems (converting sheet brakes, downgraded product, rejected product).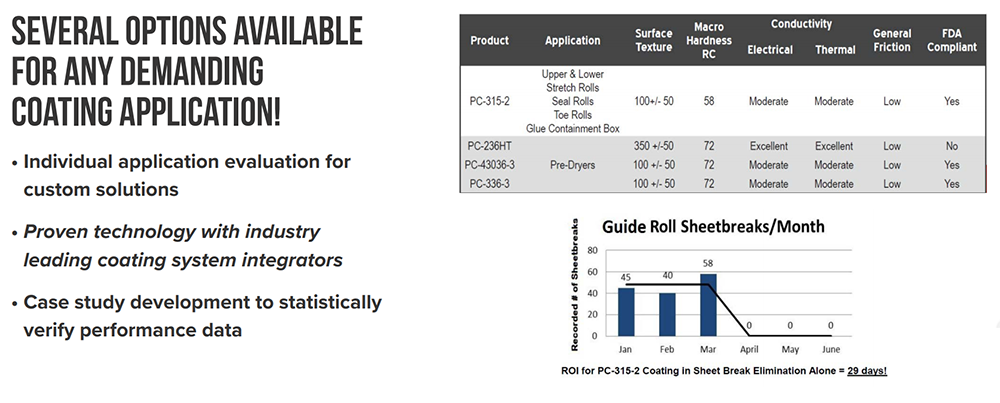 Preventing this troublesome and ultimately expensive roll build-up is the subject of Precision Roll Grinder's newest webinar, "New Technology to Increase Tissue Machine Uptime and Productivity." As detailed in the video, PRG's unique dual layer coating technology provides the release characteristics tissue and towel producers need to prevent this build-up — while also providing very high wear resistance. Both are key to substantially cutting costs and improving profitability.
Conducting the webinar, PRG's Vice President of Sales and Marketing Doug Thompson discusses this coating technology and how it can enable tissue and towel machines to encounter fewer holes (the elimination of holes in some cases) and stickies, as well as fewer downstream converting problems because of the two. He also discusses how PRG's other roll grinding and services are instrumental to producing longer-running tissue and towel rolls, allowing operations to run at incredibly high speeds, with decreased vibration, for longer intervals.
To learn more, watch the "New Technology to Increase Tissue Machine Uptime and Productivity" recorded webinar below or
download it here
.